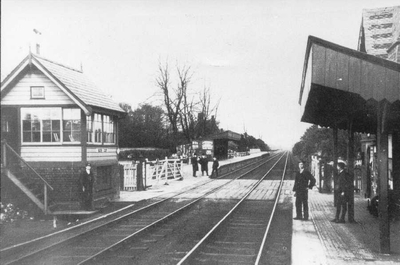 This photo shows the unique staggered platforms at Mow Cop Station
Mow Cop station was built nearly a mile away and 600 ft below the village on the North Stafford Railway line. It first opened for passengers and goods on the 9th October 1848 and closed on October 7th 1964. The signal box, which in its day was run as quickly and efficiently as a live answering service, was all that remained of Mow Cop Station It is situated on the Macclesfield and Kidsgrove line at the bottom of Drumber lane. This is also the start of one of the most gruelling short races around called the killer mile
.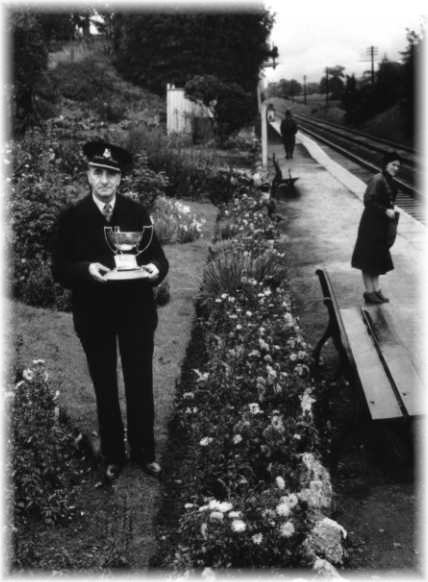 Courtesy of Neil James
The photoraph right is of Harold James, the last Station Master of Mow Cop Station. He was appointed Station Master in 1948 when he moved into the Station House, in Drumber Lane, with his wife Clara. He is seen here on the
platform
, in the the 1950's holding a Cup, which Mow Cop Station was awarded for the outstanding Station Garden (where many hours were spent by Harold & his Staff) of which he was very proud. Harold retired in 1963, just before the station was closed, but he continued to live close by: firstly further up the Hill in Drumber Lane; later he & his wife moved to Church Lawton where they spent many further years, happily, in retirement, with many a tale to tell of life &
job
on the North Staffordshire Railways and at the Station House. He died in 1993 at the age of 96.
This page contains advertising links to external sights