As advertised the Switching on of the Christmas Lights in Mount Pleasant village took place on Saturday 1st December. Like the Summer Fayre, the M.C for the evening was local poet Terry Fox. The event was well supported as over 500 people turned out to watch Borough Mayor Roy Giltrap accompanied by two of the children from Castle Primary School switch on the lights.
The evening got started at 7:00pm as a choir from Woodcocks' Well burst into song, and did very well reading the words in the dark.

Woodcock's Well Choir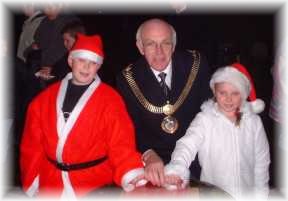 Mayor Roy Giltrap is joined by Christopher Scragg and Francesca Lascelles both from Castle Primary School, as they switch on the lights at 7:20.
At 7:30 Santa arrived in the village, unfortunately due to the massive surge of Children I was unable to capture the moment on film. His helpers were Jacob Stephenson, David Westwood, Emma Frearsom and Emily Stables from Woodcocks' Well School.

All Saints Rode Hall & Rode Heath Silver Band
Traditional refreshments from Mince Pies to Mulled Wine were served, as well as soup and beef burgers
All Saints, Rode Heath & Rode Hall Silver Band played a medley of Classical Christmas Carols, and extra money to pay for all this was supplied by a raffle and Tombola.

More Importantly I would like to express my gratitude to all those who helped organise the event, and especially to Maureen Hawkins; who for the last few years has organised many events in the village. The Summer Fete's, The Christmas Tree and lights and the Garden Parties, all of which have helped to make Mow Cop a more enjoyable community to live in.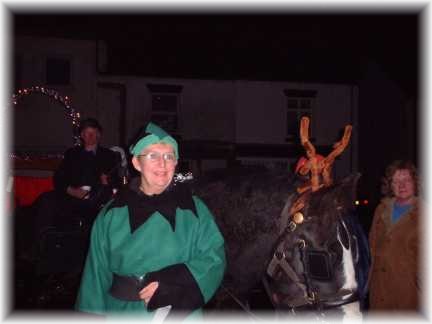 Maureen With Santa's very modern Reindeer